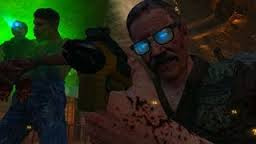 Alright... huh, who are you people?
Oh, you're here to listen to mien stories?
Don't you mean, our stories?
Quiet Samuel, I am in control right now. Okay, so I must tell you, zombie fighting isn't as fun as I zought it vould be.
Yeah, no ****.
Now now, zis is ze description, ve can't have svearing now, can ve? Anyvay, I need to get out of zis realm, Samuel is in too much danger here, und, by extension, me! I have built a teleporter out of spare parts to take us to a new universe zat is hopefully, zombie free, hopefully. Vish us luck.
Oh dear, this can't end well.
*This not to be taken seriously, I really just pulled this out of my ass. Minimal effort really.*
Chapters (2)