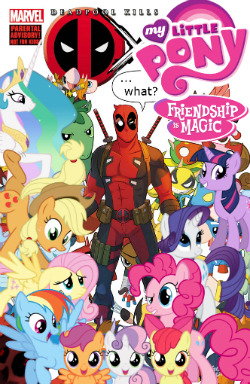 Experimented on one too many times, Deadpool our somewhat loveable mercenary transformed into a force bent on destroying literature itself. Backed by an ominous entity and armed with the divine knowledge that he and everyone around him are nothing more than works of fiction, he remorselessly slaughters everyone in the multiverse and the literature universe taking down everyone from Spiderman, to Sherlock Holmes, but some compelling force drove him closer to a universe unlike anywhere else he's been... In the magical land of Equestria.
Will the power of friendship succeed against a force that is against the very idea of existence itself?
WARNING: This contains strong language, crude humor, sarcasm, and some glorification of Deadpool's psyche. Please read more below.
MARVEL FANS: Deadpool here is based on the version of the Killogy (Deadpool kills the Marvel Universe, Deadpool Killustrated, Deadpool Kills Deadpool) so in this story, Deadpool killed your favorite heroes several times already (Spiderman, Hulk, Ironman, etc.) if you do not like the idea of Deadpool killing them, then you will not like this fan fiction and thus is not worth your time, also it goes without saying that Deadpool of course is different from the continuity Deadpool (for example: Deadpool's two voices in his head are gone and replaced by an ominous one). Do yourself a favor and read something else that you'd like, like a comic not an MLP fan fic.
BRONIES & PEGASISTERS: If the title wasn't subtle enough, this fan fic will involve some of the deaths of your favorite characters, if you do not like the thought of anyone dying i do not recommend you read further. Otherwise...
<<Skip ahead to chapter 1 if you're not too familiar with Deadpool>>
Reading said work of literature may result in nightmares, undesired bowel movement, diminished taste in other non-Deadpool fan fic stories, and may cause you to involuntary stalk the author and wish someone like him to be your lover or best friend. All the stunts here are performed by professionals and in no way you should try them at home. No actual ponies were harmed in the making of this fan fiction
---
Author's Note: This is intended as a follow up of the Comic book series Deadpool Killustrated, not the more recent Deadpool kills Deadpool written by Cullen Bunn, and also intended after the timeline of the My Little Pony: Friendship is Magic - Equestria Girls movie and before the 4th season of the animated series
Deadpool is the intellectual property of Marvel and My Little Pony of Hasbro, this work of fiction is purely fan-made and not associated with Marvel, Hasbro and it subsidiaries.
Chapters (11)