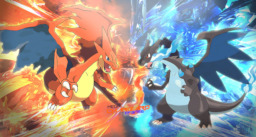 So, I died. That happened. Struck on the head by Zeus. or Thor. And then I was pulled in here by the Loki ripoff. Into the magical pony-person land AKA the Furry-verse. Did I mention I'm a Charizard? Yeah. I'm a Charizard. Congratulations! Your high-functioning, violent sociopath has evolved into a murderous, fire-breathing dragon!
A wild sextet (get your head out of the gutter) of peaceful pony-people appear! What will you do? -Fight -Talk -Eat -Run
-Fight!
---
Warning: contains mild language, crude humor, excessive violence, and WAY too many Jerry Seinfeld ripoffs. You have been warned.
Chapters (12)