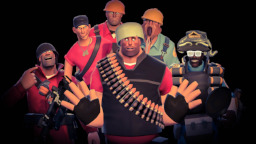 "Twilight, I'm sure you and the girls will be able to look after them. After all, they can't be that bad, right?"
When curiosity gets the better of Twilight, she summoned forth the Freaks.
When confusion overtook the Freaks, they realized they weren't at home.
When they weren't at home, they'd need to be looked after.
When looking after them, they must be fed.
Painis Cupcake was not fed.
He will eat you.
---
Heh, just thought it might be funny to see how the ponies would respond to different TF2 Freaks. After all, GentleSpy living with somepony with equally high tastes can only end well for my writing skills, correct?
Chapters (4)