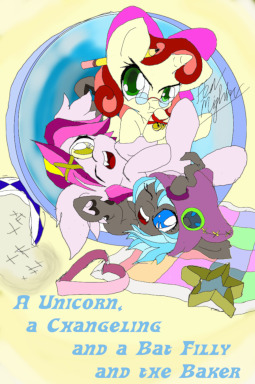 This story contains 100% saturated sugar. Exposure may induce diabetes.
---
Once upon a time there were three filly sisters. They were a unicorn, a thestral and a changeling, but that was perfectly normal. They had also adopted a human for a father, which they thought was awesomely normal. Their lives seemed perfect, but their father felt there might be room for more; A mother's touch, perhaps? Enter the slightly accidental but otherwise perfect nannies, Luna, Cadence and Celestia...uh...Dark Side, Sweet Heart and Sunrise Splendour. Though the question remains; Will these three successfully infiltrate their little family and achieve their top secret mission bring the much-needed maternal touch, or will they end up a victim to the fillies' devious matchmaking schemes?
Well, it would have helped if the three nannies didn't lose their memories on their first day, for a start.
---
Written to the sound of BlackGryphon's Cutie Mark Crusader Theme Are We There Yet and Taking Off
Cover Art: I swear this began as me doodling a bowl of sugar.
Chapters (5)