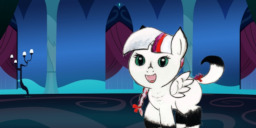 An MLP FIM fan fiction writer and super mega nerd who while in her Autumn years wakes up in the ruins of the Castle of the Two Sisters and finds that she is a filly named Kitsumi Nova. The very character she'd created just for fun. Her first obstacle will be to find her way to civilization.
From there the story becomes a slice of life where our former human must live out the life of a pony who is also a young alicorn. And if that's not enough, she is Nightmare Moon's daughter and fears what will happen if she presents herself at court. Will she be reunited with Princess Luna and reconciled with Princess Celestia? Will she go back to earth when the opportunity arises, and who wants Sunset Shimmer dead? OK, there's a long list for that last one.
Yes, this did start out as a blatant self insert. Originally I started it as an exercise in the first-person narrative and really had no intention to publish it. Ever. After a while, the main character morphed into someone older than myself and a bit more accomplished. Reasons for doing this is because, well, let's face it, I'm a deeply private individual and prefer to have that layer of insulation. There is also the issue where many of my life experiences simply don't fit the character I wished to portray.
The story itself is loosely based on my other Kitsumi Nova stories and is its own independent story in its own dimension within the Kitsumi Nova Multiverse. It also predates the Mustang sisters Nova and Summer. There will be comedy, and there will be poignant moments sure to tug at the heartstrings.
The story itself has seen several major rewrites and was even abandoned for a while.
Contains mild swearing and a few f-bombs
There will be one chapter in which the more squeamish may wish to skip over containing borderline gore and outright nightmare fuel. Granted that the more jaded readers probably won't even blink an eye.
Chapters (66)