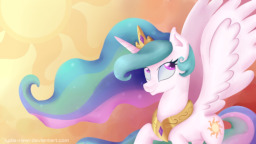 Source
Twilight, seeing that her friend needed a little bit of companionship, decided to help him get a date.
But boy, did he aim a little too high for her taste.
Now, her and Spike need to help this putz of a human snatch a date from one of the most undateable beings on the planet, Princess Celestia.
Needless to say, they're doomed.
Cover art used with permission by Lydia-Rawr
Warning: Story will contain horrible romance clichés, cutsieness, and all around silliness.
You have been warned.
Chapters (25)