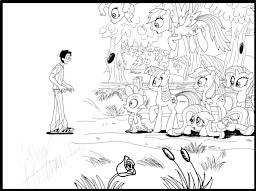 (The Redone Version) (EFH has it's own TV Tropes page! Thanks to redandready45! )
A human has been teleported to Equestria after a lightning bolt struck him. The ponies of Ponyville had never seen anything like him before. Full of fear and uncertainty, all of Ponyville, except for the Mane 6 and Spike, avoided him. The human, with the help of the Mane 6, must earn Ponyville's friendship before a way back home is found.
Rated Teen for some language and mild peril.
Chapters (18)