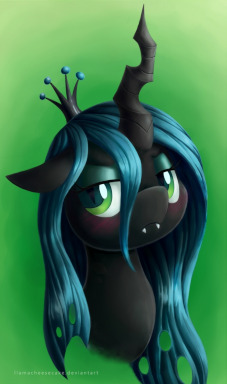 Chrysalis might be one of the most evil, vile, and dastardly villains that Equestria has ever known. She might have been responsible for nearly destroying the world more than once, she might even be a soul-sicking, shapeshifting monster, but she is still a mare.
She had never been given a genuine, honest compliment from someone that wasn't under threat or stuffed into a feeding pod or mind controlled. Today that is going to change.
Cadence really hasn't happy about the whole thing.
Artist is llamacheesecake
Chapters (1)