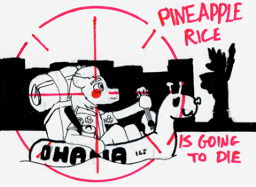 Pineapple Rice thought a little hang around Manehattan would be smooth sailing, especially for a pegasis from Ohana Islands. Goddess, how he was wrong. He is now enemy number one to the Cino mafia family, the Ramune Yakuza are planning to show him the latest styles of cement footwear and the Tequila cycle-gang? Well, let's just say they are not willing to give him kindness.
Officer Dandelion is trying to protect the infamous tourist, but the more and more he is in the city the more and more it is abundantly clear...
That Pineapple Rice is Going to Die.
Chapters (1)