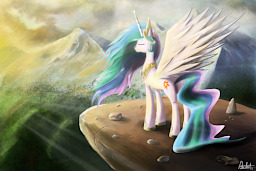 A thousand years ago, in the magical land of Equestria, there were two regal sisters who ruled together (basically) and created harmony for all the land (well, mostly).The two sisters maintained balance for their kingdom and their subjects, all the different kinds of ponies (it's a little more complicated than that). But, as time went on, the younger sister became resentful. The ponies relished and played in the day her elder sister brought forth, but shunned and slept through her beautiful night (generally speaking, but you know, that's not exactly the whole story).One fateful day, the younger sister refused to lower the moon to make way for the dawn (okay, you're skipping over a lot of details here). The elder sister tried to reason with her, but the bitterness in the young one's heart had transformed her into a wicked mare of darkness! Nightmare Moon! (Okay, this is getting misleading) She vowed that she would shroud the land in eternal night. Reluctantly, the elder sister harnessed the most powerful magic known to ponydom: the Elements of Harmony! Using the magic of the Elements of Harmony, she defeated her younger sister, and banished her permanently in the moon (whoa, hey, now you're skipping over, like, everything important). The elder sister took responsibility over both sun and moon, and harmony has been main- OKAY LET'S BACK THE HELL UP RIGHT NOW SHALL WE.
Okay, look, that's all technically true, but a lot of information is missing. So, let's get the story straight.
This is the story of a powerful pony who must face her faults when her strength fails her. This is the story of a teacher with lessons to learn. This is a story of love and of hatred. This is a story of joy and of sorrow. This story does not have the purpose of instilling a particular lesson -though it has many- or bringing about a particular feeling -though it has many of those too- like so many stories do.
This is just an Old Mare's Tale.
-------
This is a story I actually began, like, a year ago. Somewhere around fourteen chapters are up on EqD and Fanfiction.net. Now that I have resumed work, I've decided to post it to FiMFiction as well. It's not been on FiMF before, so this is NOT a re-post.
-------
Though the content of this story does not cross over into Mature territory, there is some graphic violence, and certainly some immature allusions (okay, and they straight-up talk about sex, too). Plus, there are swear words. If you are worried about that sort of thing, then this may not be the story for you. I know this warning is a bit redundant with the content rating, but I feel warning redundancy is a good thing.
Chapters (20)