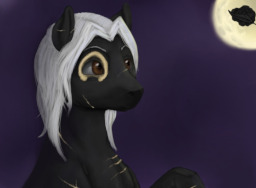 Source
This story is a sequel to Lunar Lights
---
Ten months have passed since the undead attacked Ponyville, and Luna works to protect Ponyville with her husband Scrivener Blooms from the threats rising out of the tunnels beneath Equestria and from perhaps Helheim itself. A letter from Celestia comes with dire news and begins to draw her away from Ponyville, however, on a quest that will prove not even reality itself is what it seems to be.
Act I: Predator And Prey (Chapter 1-Chapter 8): - Luna receives a strange request from Celestia, to travel with her husband and the newly-assembled Starlit Knights to North Neigh, and investigate the destruction of a nearby village. Before she can, however, she is sidetracked by the arrival of a Pegasus in Ponyville who strikes fear into even Luna's very soul.
Act II: Fragmented Memories (Chapter 9-Chapter 16): The first stop for the Starlit Knights is Canterlot: both Twilight Sparkle and Luna face things they had never dreamed of there, and Celestia begins to pull back the curtains on long-forgotten, impossible memories.
Act III: With Malice, For Love (Chapter 17-Chapter 24): The Starlit Knights march onwards, but the road promises to be difficult... worsened by the fact that an old enemy pursues them viciously with the aid of dark forces, and all for a love that can never be.
Act IV: We All Lay Down To Sleep (Chapter 25-Chapter 33): All things must come to an end, and even the greatest civilizations must fall. Desperation and darkness grow with every passing moment, and salvation seems like an impossible dream.
Action, high fantasy and Norse mythos make up the gauntlet, along with the frequent interludes of Luna and Scrivener's strange romance and eccentricities. Descends deep into very dark, tragic territory in Act IV, but no matter how frail it becomes, hope is never fully extinguished.
The third story of the Nátta Edda, and the end of the Fimbulvetr Trilogy.
Chapters (37)