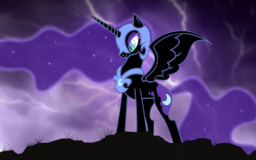 As Luna begins her downward spiral to evil, Star Swirl the Bearded returns from a dark future and makes a terrible discovery - someone, or something, has altered the course of time! As he works to set things right, will his involvement change things for the better, or has the mage doomed Equestria to an even more terrible fate?
Made the feature box twice!

---
• The second part is now available, which you can read by clicking here.
• Is the time travel stuff confusing? (Yes is the only correct answer.) Then click here to get a better understanding!
• NOTICE: This story contains an OC mary sue, an over-powered mage, some really dark moments and my poor but only occasional attempts at writing comedy. It also has warm fuzzy moments, too.
Chapters (12)