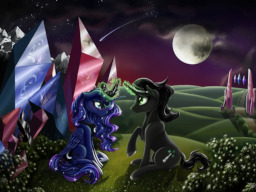 Source
Before King Sombra enslaved the ponies of the Crystal Empire; before Nightmare Moon attempted to block out the sun forever; there were only Luna and Sombra. In a time when Equestria's peace after Discord's defeat is shaken, and when alicorns once again come under attack, two unlikely ponies come together beneath the pale moonlight. In the darkness their love blossoms, but so does an ethereal evil that bides its time, waiting to strike before the dawn.
______________________________________
Sequels:
Shadow of the Moon
In Your Dreams: Luna's Farewell
Cover art done by the amazing Nalesia on Deviantart. Please check out the artist's gallery. I couldn't be happier with this piece.
Chapters (27)