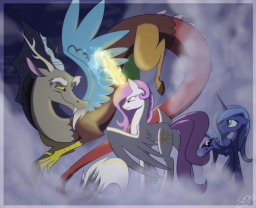 Source
It is highly recommended that you read The Gift of Life before diving into this story.
And I am back to writing! I'll try to have a chapter out a week.
King Sol and Queen Galactica are dead, Everfree City lies in ruins, The Eternal Valley and the Flutterponies have been mutated into equine insects, Discord reigns supreme over the land, and Princess Celestia and Princess Luna have gone into hiding within the small mountain town of Canterlot. The future looks bleak for Equestria under its new tyrant, and slowly the land begins to bend to Discord's will as he resumes his search for the Element of Chaos. Can Celestia and Luna stop the draconequus before he gains the full chaotic power of the moon, or will they suffer the same fates of their parents?
~~~
Part 2 of the Lullaby to the Moon series, a (planned) three part series involving the childhoods of Celestia and Luna. Told from the third person perspective of Celestia and Luna(in her respective chapters), this story delves into the holes about what the two princess' lives were like when they were mere fillies all the way until they barely reach adulthood.
Disclosure: My Little Pony, Friendship is Magic © Hasbro, DHX Media. The characters Princess Celestia, Princess Luna, Discord, King Sombra, and Queen Chrysalis, along with the names of the locations depicted in this story, belong to Hasbro and its respected affiliates. In no way do I plan on redistributing or selling this story in the means to make a profit unless I have consent from Hasbro itself.
Viewer discretion is advised for:
-Suggestive themes
-Drug and alcohol use
-Blood and violence
Chapters (13)