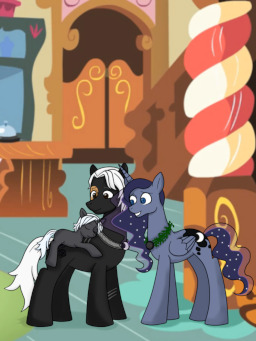 Source
This story is a sequel to Because Love Conquers All
---
Equestria has found peace, and Luna and her husband have been able to relax in what they fondly call the Looking Glass World. Everything they have hoped for seems to be coming true: they have friends, family, and Luna is soon to bear a child. But soon enough, the peace is broken as the two are given a mission that will take them to other layers of reality, and they will find themselves hunted by the machines of their worst nemesis as evil once more comes to their world.
Divided into two phases, the first phase tells the story of the strange and layered universe Luna and Scrivener are fighting to protect, while working to raise a child and take care of friends and family. The second phase tells of war on their world, and how nothing comes without a cost. Eventually, all questions are answered, all loose ends tied together, all riddles solved: simply read and allow the story to keep track of itself.
Phase I, Day: Honor, Duty and Family (Chapter 1 - Chapter 38): In which a child is born, explanations are given, friends are recovered... and enemies begin to make themselves known.
Phase II, Night: Ashes, Metal and Corruption (Chapter 39 - Chapter 75): In which Clockwork World begins its campaign in earnest, an impossible story comes to life, old enemies rise... and the Fates themselves conspire against Luna and her love.
A story that mixes together elements of sci-fi, romance, and fantasy. Action and adventure intertwine with darkness and hope that shines through even the deepest despair, in a world where everything seems complex and impossible... but all the answers are clear cut and simple.
The sixth and final story of the Nátta Edda, and the final story of the Iðavöll Trilogy.
Chapters (80)