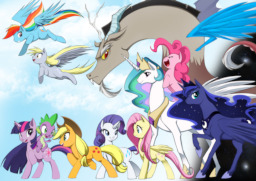 A boy by the name of; Disorder Chaos. He is the son of Discord, the god of Chaos and is an orphan. When he turns 14 he gains his powers over chaos. He meets Twilight Sparkle and her friends as they go to try and stop Nightmare Moon. As they go on adventures and stop evil. All while Disorder must control his powers before they, along with himself, are used to take over the world.
Story takes place during season's to 3. Story may change depending on the actions of the characters.
I might have this become a series, might not. I'll change he title if I do decide to do so.
WARNING!: Anthro Ponies.
WARNING!: It's rated teen.
This is Part 1 of ???. Enjoy.
Chapters (23)