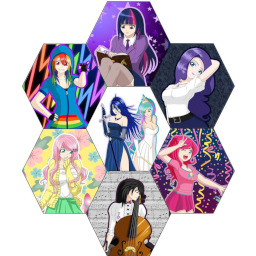 Source
[humanized] The greatest cultural authority in the land of Equestria, a group of young minds chosen directly by the two High-Princesses: Celestia and Luna; to be represent them. Six young women who holds a great influence on their land's future.
How were they chosen? This fanfiction holds the tales to answer that question.
A side fic/prequel to my Apple Scratch series written by the common effort of six enthusiastic writers following that thread from the Apple-Scratch Verse group.
Cover art made by me with original drawings of Zantyarz (Twilight in this fic is dark skinned, it's just that I wanted to keep the same artist for the whole hexagon ;) )
Chapters (6)