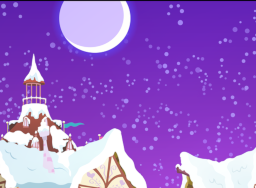 This story is a sequel to inFAMOUS: Second Storm
---
Hearth's Warming. The time of year where creatures all around the world get to spend with family and friends, retelling stories of the Fire of Friendship. Though, for the last couple of years, an urban myth begins to circulate during the holiday season. If some creature felt as if something was preventing them from enjoying the holiday season, they would be visited by what some would call an angel on Hearth Warmers Eve. They would arrive and depart with the cold winter winds, but not before conversing with the individual in question. What they said would help them get back on their hooves again and change their life for the better.
Of course, when Gallus heard Sandbar tell him the story, he was rather skeptical. No creature ever came to visit him when he was down on his luck in his time before attending the school. How was an urban myth going to turn his life around?
Unknown to him though, he was going to have a special visitor tonight. One that would tell him that The Angel of Hearth's Warming was more than just a myth
---
A sequel/seasonal story set four years after the ending of inFAMOUS: Second Storm. You don't necessarily have to read it in order to understand it, but it's how some parts of the story would make sense.
Takes place on the night before 'The Hearth's Warming Club' and is treated as an alternate take. Comedy tag for the second chapter's ending
Credits to everything shown. Edited by Wind Scribe
Cover art vector made by Strikehund on DeviantArt. Credits to him
Originally, I wanted to release this story on Christmas, but I thought that it would be cruel to make you guys wait too long. Especially since this was a surprise.
Chapters (3)