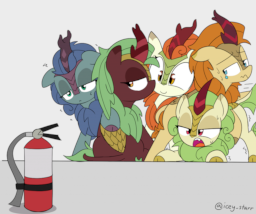 While on a trip to the town of Ponyville, Autumn Blaze and a few of her friends from the Kirin Grove find something peculiar. A contraption that's said to extinguish fires.
Each one of them react to it rather differently... Yet, all of them still find a way to get themselves in trouble.
---
Another silly one shot inspired by another silly art piece from Icey_Starr. Yet, unlike the last one, this one was a bit more spontaneous and doesn't quite have any structure to it.
Credits to everything shown.
MLP belongs to Hasbro.
---
Featured- 7/10/2022
Chapters (1)