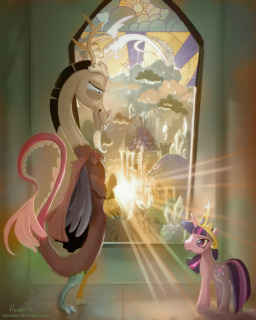 Source
When facing Twilight Sparkle, Nightmare Moon was given a choice: redemption or revenge. What if she had chosen the latter? A grim fate awaits Equestria, but in a time of greater strife and conflict, Discord's return is accelerated. While he expected to bring chaos, he did not anticipate that he would end the Longest Night and bring hope and joy back to the land.
Discord struggles to reconcile his nature with his desire for admiration. While Twilight's friends strive to carve a new life in the ever-shifting Equestria, she searches for Celestia, the only one who can bring harmony back to her lands. But Nightmare Moon also seeks her sister in a desperate attempt to find her place in the world. New dangers lurk in the wild and more threaten to fall over Equestria. Nightmare Moon's decision broke the balance of the world. Will Equestria ever turn to peace, or will the spiral of chaos and destruction be the end of everything?
(An alternate history, this story takes the universe established by the canon and explores one possible outcome if Princess Luna had not been redeemed.)
Comments contain huge spoilers. Walk softly.
Special thanks to my pre-readers, MmmandarinOrange and DarkmatterButterflies for keeping my head on, taking the journey of the story, and making it so much better than it would have been if I wrote it alone.
Chapters (38)