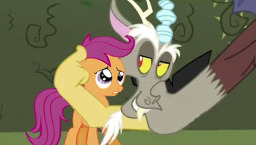 Source
Hearth's Warming Eve has come once again, which means fun in the snow, warm food, and spending time with family. At least, that's what it means for most ponies. For Scootaloo it means a day off from crusading, loneliness, and the coldest night of the year. When Discord begins to whisper to her from his stone prison, she questions the beliefs held by many. What was so great about Harmony? What could be so bad about a world where chocolate milk fell from the sky?
Thanks to The Band Brony, Gsppcrocks10, Inkscrawler, TheBuggiest, and minjask6572 for help with editing. Thanks to SStwins for the awesome cover art.
Now with its own TV Tropes Page!
Chapters (22)