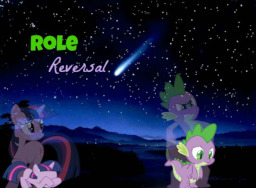 Source
After repeatedly being excluded and left behind from the Mane 6's adventures, only to do his chores at the library, Spike begins to feel bitter about his role as Twilight's assistant.
But upon seeing a shooting star one fateful night, he makes a wish that turns his life upside down.
The results of this wish will force Spike to discover the true meaning of purposes in life, friendship and most importantly, being wary of what you wish for.
Cover art made by SStwins! http://sstwins.deviantart.com/
Look at this fan art done by X9ss! http://x9ss.deviantart.com/#/d52r1xi
Chapters (18)