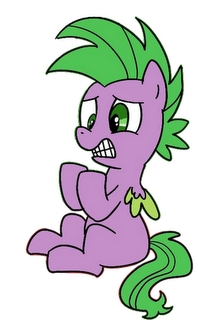 While helping Twilight rearrange her lab, Spike comes across a magical powder that changes him into a pony! While Twilight tries to find an antidote, pony Spike has some adventures of his own.
(Originally posted (part 1, at least) to EqD in May 2011. I'd run across a ponified Spike picture and suddenly got an urge to write it. Another story that I tried to make seem like a viable episode)
NOTE: This story takes place in the same continuity as Appleshy, Sparkle Kitten, Trixie's Great and Powerful Revenge, and Tragic Magic. It takes place chronologically after all of those except Tragic Magic. The other stories are not required reading to fully enjoy this story (though feel free to read them anyway!), but there are one or two elements that call back to Sparkle Kitten in particular.
Chapters (6)