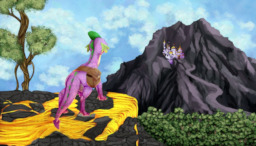 Spike was always different from other dragons. Sure, he still had many of the standard abilities of a dragon (such as flame breath and really tough scales), but he also liked reading more than other dragons did and didn't enjoy many of the same activities that gave other dragons pleasure. He was also adept in the field of alchemy. His only friend growing up was the Dragon Lord's daughter Ember.
Now, however, he has a chance to find out WHY he is different from other dragons, even if it means saying goodbye to his only friend. However, if he isn't like any other dragon, then what is he like?
Is there another out in the world like him or is he truly alone?
If he isn't alone, then where will this new path take him?
Many adventures with new friends and dangerous new enemies will give him the chance to find out, for better or for worse.
The only way to see where he will end up is to keep moving forward and never look back.
(This is the First Part of the Nova Verse)
Chapters (17)