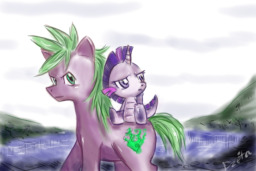 Source
Inspired by the story image, RainbowDoubleDash's Lunaverse and Trinary's "Rainbooms and Royalty", I give you my take on the alternate universe concept. Namely, a universe where Spike is the pony and Twilight is his dragon assistant.
The thousandth Summer Sun Celebration is approaching. With it will come the return of Nightmare Moon. Celestia has no student to call upon to save Equestria, and is doing all she can to make the last day of peace meaningful for her people.
Meanwhile, Spike "Purple Prose" Flail is a reporter for the Canterlot Sun. He finds himself being shipped down to the boonies with his longtime friend and assistant, Twilight, to cover the biggest festival Equestria has seen in a millennium!
But even with a visit from the princess, there's no way someplace as boring as Ponyville could ever be newsworthy. Right?
A/N: Credit for cover image goes to dzetaWMDunion on Deviantart art.
Story would also include character tags for Thunderlane and Cheerilee if not for the character tag limit.
Chapters (20)