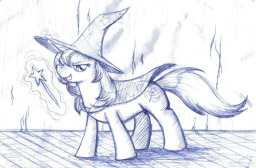 Source
This story is a sequel to Flipside
---
((A sequel to my surprisingly popular story Flipside! Set in an alternate universe where Spike is the pony and Twilight is his dragon assistant.))
It's been two weeks since the defeat of Nightmare Moon. Two weeks since six unexpected ponies became heroes that saved not only Ponyville, but all of Equestria. And in those two weeks Spike "Purple Prose" Flail, ace reporter for the Canterlot Sun, has had plenty of time to get into the swing of his new home in the small town. Life seems good...
Until a new pony blows into town. A specter from Spike's past that isn't willing to let him just have his "happily ever after." A certain ex-student of Princess Celestia herself that Spike hasn't thought of in ages.
One who's particularly eager to show how little a "hero" Spike is.
Part of the Flipverse!
Now on TVTropes!
Chapters (13)