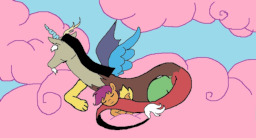 Scootaloo, as we all know, has no parents and lives in the Cutie Mark Crusader's club house. But not for long. No, Scootaloo has finally found somepony who understands her. Somepony who is willing to be a parent!
That somepony is Discord.
How will Scootaloo adjust to her new life as the daughter of chaos incarnate? What will her friends think? Can she convince Cheerilee to be her new dad's special somepony? Will she get her cutie mark?
Story image by AppleCider1412
Chapters (7)