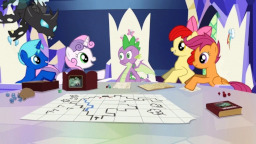 A darkness stirs in the Kingdom of Solenis. Bandits roam the open fields and monsters rise against the smaller towns. Within the city walls of the capital, mysterious figures known as the seven work in secret to bring down an empire that has lasted a millennium.
A dragon shaman with a shame filled past. An eccentric Zebra travelling the world. A fast talking griffon, a reserved changeling, and a pegasus looking to prove herself. Their paths cross one fateful evening in a small town tavern. Will they be able to overcome their differences and rise to face the shadows, or will they fall to obscurity, crushed beneath the weight of the challenges ahead?
This is a "Ponies play Dungeons and Dragons" Fic taking place in the Discordant AU, but will hopefully be enjoyable by readers who have never read my other stories and who have never played D&D. There will be mentions of game mechanics, as the story will jump between the ponies playing the game and the narrative they weave together, but I'll keep the technical details short and simple when they're mentioned at all. This story takes place ten years after the events of the show, between the stories Harmonics and Overgrowth, but again, neither story is necessary to understand this one.
This story will include occasional reader input, such as voting on player actions ("Should we go with Scootaloo's plan of sneaking in, Apple Bloom's plan of shock and awe, or Sweetie Belle's plan of diplomacy? Vote now!") as well as occasional decisions made with dice ("Will Apple Bloom's character make it into the tunnel before it collapses, or be separated from the group? Let's see what the dice say.")
Chapters (3)