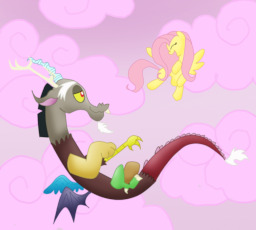 An unexpected turn of events have lead to Discord's freedom, but his plans are turned asunder when Twilight Sparkle accidentally badly injures him.
Vulnerable and weak, the spirit is taken in under the ever watchful, gentle and concerned eyes of Fluttershy. Through this time of healing, the pegasus discovers that there's more to this miscreant than meets the eye, and she's determined to prove it.
Through this process dark secrets are revealed, pain is revealed, and gradually a hidden side never seen of the draconequus, and Fluttershy struggles to push him and past friends back together.
Will she ultimately have an effect on his indifferent heart or this only another one of his dastardly plans?
R&R
(So far there are already ten written chapters. If this story gets good reception I'll upload them all and continue to update. If you're impatient, all chapters can be found on my deviantart account at cryssy-miu.deviantart.com There is also a ton of art on my account too, which includes the story's preview image~)
Chapters (19)