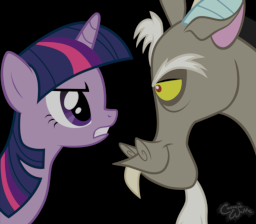 Source
Twilight and her fellow Elements of Harmony, along with Spike, must travel outside of Equestria to find a cure for an ailing Princess Celestia. This journey, however, forces them to travel with an old acquaintance they had all but forgotten...
--
An attempt at writing adventure, and moving myself out of my comfort zone and into dialog-heavy writing. Plus, Discord! Whoo!
edit: This story now has two kinda-sequels; the shipfic Diplomacy and the slice-of-life fic A Normal Day!
Chapters (6)