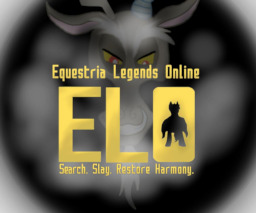 Congratulations, Equestria Legends Online is now side-story compatible: These other authors would love your support in their own adventures in this virtual world. You can find them in The Equestria Legends Online Fan Group, located here.
It's the year 2020, and millions of people are raving about the new game console known as Nervegear, which will literally take a player's mind into the game. But thousands of bronies are raging about a new pony game made for the Nervegear. After several months of waiting, the game is released, as a way for the players to actually travel to Equestria as ponies themselves.
But... things become screwy when Discord appears. Whether it was in the game design or not, this being of chaos has gained control over the virtual Equestria, trapping every brony wearing Nervegear inside the game. However, there is one way to get out. The bronies in the game must find and acquire the Elements of Harmony, which Discord has hidden throughout all of Equestria. But there is one drawback: If a player dies in the game, then the Nervegear will fry their brains in the real world, killing them on the spot. If they die in the game, they will die in the real world.
This idea was given to me from the Japanese Anime, "Sword Art Online." Please, no hate comments or dislikes for this fact. At least read the first chapter before outright disliking it.
Thanks to Raybony for making the cover art for this story.
Chapters (48)