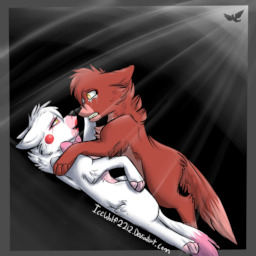 Source
Hundreds of people know of the tragedies that are known as Five Nights at Freddy's lore. From the killing of an innocent child looking into a diner from the outside, to the infamous 'Bite of '87' where an animatronic took a bite out of a human brain at a birthday party, Freddy Fazbear's Pizza has become a living hell hole for nightwatchmen and adults alike. This place has become a prison for many souls, all of whom are hellbent on revenge.
But what happens when the spirits of the victims, whose souls resided in the animatronics, are brought to Equestria to begin new lives in the forms of animals?
They will have to cope, but how will they do it? Can they let go of the past years, full of misery and the undying want for revenge, or will their pasts come back to haunt them in the form of a monster? Will they be able to "S-A-V-E T-H-E-M" from Him?
Rated Teen for gore and occasional cussing... maybe references to more sexual themes, but no real banging.
Warning: Hardcore Shipping May Occur

Chapters (6)