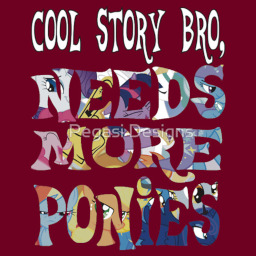 Source
This story is a sequel to Yeah, It Needed More Ponies
---
My name is Lyle Anderson, age 17, part time human, and all the other times I'm a (pony, griffin, zebra, breezie, etc.)
Why can I become so many fantasy creatures from a show directed towards little girls and bronies? Well, blame my friend, who happened across transformation spells while dabbling in witchcraft. I admit, it's been fun this far, and my life has gone as far from ordinary as possible right now... but on a school trip to Washington D.C., I realize Angela isn't the only one who can perform the spell. That someone wants to see the capital burn.
And all the while I'm wondering, "How the hell did I get thrown into the middle of this?!"
Rated Teen for the occasional cuss
Character listing for this story will update as more transformations occur, but not of specific ponies; Just species like Changelings or Breezies.
[Edit}: Has made Featured List at least three times... I think. I may have lost count.

Chapters (10)