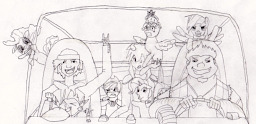 Source
Twilight finds an unfinished spell from Star Swirl the Bearded meant to view other worlds.
Coop tries to fix the Time Flux Control unit to go back in time to see a legendary wrestling match.
When these two things are activated simultaneously the Mane Six and Spike are pulled into the chaotic land of Jersey City.
Out of her element and completely outgunned, Twilight has no choice but to place her faith in Coop's destructive hands to rescue her friends from the Glorft. However, the seven friends aren't the only thing to make the trip from Equestria to Earth...
Chapters (6)