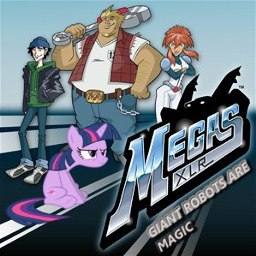 Source
Coop is the expert pilot of a giant robot built for epic combat. His best friend Jamie, thinks he's an expert with the ladies.
Due to Jamie's big mouth and a not so gentle arrival in Equestria, it may take some time leave this strange colorful planet.
With M.E.G.A.S stuck in a new civilization to screw up, how will the ponies cope with the mayhem? Princess Twilight will certainly need the help of all her friends to watch over the human visitor who consumes all before him. Not to mention a red headed woman claiming to be the last human resistance soldier. At least the skinny jerk doesn't pose much of a threat, right?
If you haven't seen the show, this will still make some sense, but you should go watch it. If you don't like giant robots and screaming awesome then shame on you.
I do not own Megas XLR or My Little Pony Friendship is Magic. They belong to Cartoon Network and The HUB respectively.
Chapters (7)