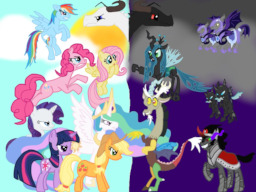 My lord. For two thousands years you've waited; you've watched this world change in the depths of your prison, waiting for the day that you would returned to consume it. And now the world is at a crippled state. The eldest Alicorn sister rules over the land, unaware that her 'golden age' is what has kept this world off balance, and keeping your resurrection alive. But the one who had imprisoned you has sent forth the child of your first victims, to restore the world in its rightful path. But what can the Draconequus do when the harmony he created turns against him?
Concord is the spirit of order and balance. In a time when Equestria was ruled under chaos. Concord did a great deed for the ponies of the land. But in his ignorance and prideful state, he had unbalanced the world that he himself was sworn to protect.
After a thousand years, Concord finds out of a great and ancient threat, a threat that he created. So Concord travels back to Equestria, determined to make things right again. However, it may be more difficult than he anticipated. If betraying friends, and destroying lives is what it'll take to balance the world, can he truly do it? Or will he embrace the dark side he never knew he had?
(Author's Note) This story starts out in season 3. The canon events of season 4 may be altered.
Thanks go to Starligh Nove, Haseo, ThatOneWriter, and TheDarkAngel for pre-reading and editing.
Thanks to JumpingShinyFrogs for the cover art!
Chapters (5)