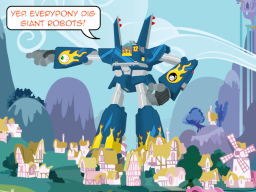 "Living here in Ponyville
Fighting villains from afar
You've got to find first gear
In your giant robot car"
When the CMC stumble across a giant mecha from another time, another place, another reality, their latest quest for their Cutie Marks takes on epic proportions. Between getting to class, dealing with an angry alien that's somewhat friendly, dealing with an angry alien that is distinctly less friendly, and anything else the heavens can throw at them, you'd think things were hard enough. But they still have to be home by bedtime.
...at least piloting a giant robot makes it easier to get certain bullies to shut up. Ponies dig giant robots too...when its weapons aren't pointed at them.
Now where - and what - was first gear again?
---
Creative Consultant: The_Whovian16
Chapters (12)