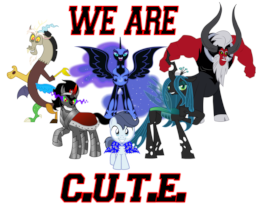 This story is a sequel to Princess Celestia's Newest Arch Enemy
---
After successfully defeating both Princess Celestia and Luna on his first day as super villain, the colt known as Bad Dude sets his sights on much larger projects. Namely, the creation of Equestria's first ever super villain group known as The Coalition of United Terrible Evils. Or C.U.T.E. for short.
But were villains ever truly meant to play nice with one another?
Artwork by Shadow Bolt.
More Bad Dude art by TurnWrongattheFork. HERE!
Chapters (30)