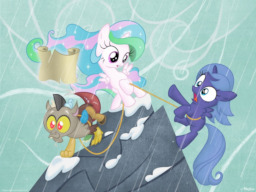 Source
This story is a sequel to Celestia's Secret Secret Room
---
In order to destress every few weeks, Princess Celestia takes a potion that allows her to be a child again, living life without a care in the world for hours at a time. Thus far, the effects have been stupendous.
So, with that in mind, could the same treatment be applied to the most nefarious villains in Equestia in hopes of lessening their evil ways?
Queen Chrysalis, Discord, and King Sombra beg to differ.
Artwork by olegsavoskin.
Chapters (1)