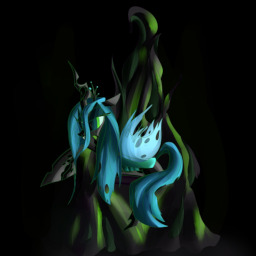 Source
This story is a sequel to Ponies, Pirates and Peculiar Psychopaths
---
Chrysalis has been driven out of Canterlot, her invasion defeated. However, an old friend from her time before becoming queen is more than happy to help her succeed with her plans.
Will these two achieve their goals, conquering pony-kind and ruling over them with iron fist and hoof? Or will they be stopped in time, preserving the peace that Equestrian has known for as long as can be remembered? There is more than just dreams of world domination at work, though, this is personal for Chrysalis and her rediscovered assistance.
Hopefully, the line that 'Evil never triumphs' will prove to be correct, or else a drastic change is going to descend upon not just Equestria, but the entire world.
Thanks to Avatar of Madness for the coverart.
Chapters (11)