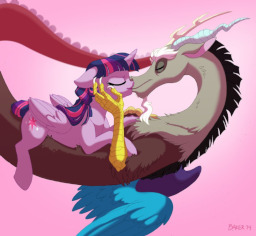 Source
Twilight Sparkle, Element of Magic and Princess of Friendship, can now add the titles Princess of Learning and Headmistress of the Equestrian Academy of Magic to her name. Her life-long dream of spreading knowledge to everyone is now her actual job description and after going through the grueling setup process she's now ready to be the best educator ever. But then Discord comes along wanting to become one of her professors and everything she had expected to do gets thrown out the window.
---
This is a story based on the next gen series of drawings done by Lopoddity on Deviantart (Link down below). As you can no doubt guess from the cover art this will be a TwiCord story with many other ships passing through based on Lopy's ideas from her gallery, the focus being on the journey each relationship goes through to get to their end point. And also Discord antics, because those are the best antics.
Lopoddity pony gallery.
Have fun and enjoy the story!
Chapters (7)