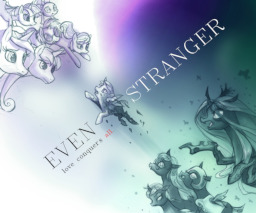 Source
Thorax is a junior processor, class Q, and has lived his entire life in the hive, yet he dreams of things bigger. Grander. Much more important than watching pH levels in vats all day. Wouldn't you know it, his application to the espionage services gets accepted, too! Maybe he really is going places!
Except he nearly flunked the exam, and knows nothing of the outside world. Regardless, Queen Chrysalis charges him with a very important mission: Spying on the inhabitants of Ponyville, especially Twilight Sparkle.
Nothing, of course, goes right after that.
Cover art by Chicmonster
Chapters (28)