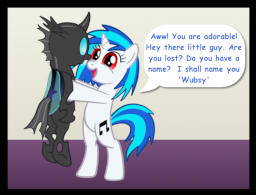 Source
A single changeling is cut off from the swarm during the attack on Canterlot. She's discovered by Vinyl Scratch and adopted as a pet. How will Wubsy the changeling, Vinyl, and Octavia cope when the town develops Changeling-phobia? Will Wubsy ever be able to prove her good intentions and stay with the mare she's grown so attached to? Rated Teen for off-page lesbian pony make-out session.
My bid to make "Wubsy" a more official part of the fannon. Check the source of the fic image to see the comic that started it all.
A gracious thank you to GarlicParsnip, Comma-Kazie, Chengar Qordath, JJ GingerHooves and Steel Resolve who proofread and co-authored the piece.
Chapters (13)