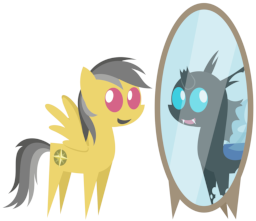 Source
After the disastrous invasion of Canterlot, an injured changeling wakes up near a small cottage and is quickly discovered by two of the last ponies she ever wanted to see. Now, with the help of her new "friends," she has to remain undetected in a town high on changeling hysteria that would not hesitate to throw her in the Canterlot dungeons should her true nature be revealed.
Simple, right?
Too bad she couldn't have picked a worse form to stay inconspicuous...
Many thanks to ZuTheSkunk for the cover image!
Chapters (12)