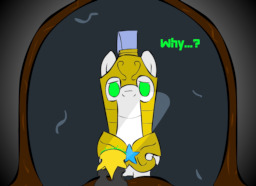 Welcome to Trotondo, where the lakes freeze overnight and the snow never stops falling.
Welcome to the outermost Equestrian colony, where the foreign threat is so marginally low that only two royal pegasi guards were needed to keep it safe.
Welcome to the town protected by Dawn Guard and Dust Mote, two peacekeepers so hopelessly in love that they don't even know it.
... Thankfully, the other four hundred and thirty eight denizens of Trotondo are more than willing to help resolve this predicament.
Chapters (2)