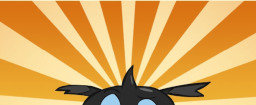 Sometimes, Spotlight - or, Psych Ologist, as known by the masses - needs some time to unwind.
And, between bickering couples, Cloud Kicker's horrible aura of train-wreckery and the Cutie Mark Crusader Lemonade Fabricators, 'unwinding' may need a little more than the typical 'Two' he gets from his friends at the Spa.
No, this time, he's getting a Four.
Oh yeah, things just got serious.
Non-canon oneshot set in the Winningverse ~ Title for Chono
Chapters (1)