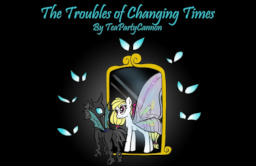 Source
One month has passed since Queen Chrysalis and the changelings made peace with the ponies of Equestria, but all is far from well. Hatred and suspicion run high on both sides, and several groups of ponies have begun to organize themselves in order to drive the changelings out of Equestria and back into the Badlands. Add in the return of an old enemy looking to break the fragile harmony by any means necessary, and the two races find themselves trapped between a rock and a hard place with no easy way out.
All Mirror wants is for the hatred to end. As a single changeling, she knows that she cannot change anything on her own and must rely on her Queen, swarm, and friends to help change Equestria for the better. But with so many factors working to ruin any chance of harmony and friendship between the two races, is peace truly meant to last?
A sequel story to Smoke and Mirrors. Many thanks to Amethyst Hope for the amazing cover art!
Chapters (2)