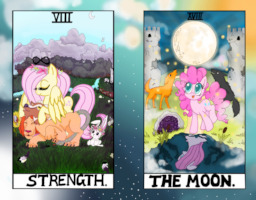 Source
Part of The Royal Road Collaboration.
Pinkie Pie of Solaris is overjoyed when she receives word that she has been chosen as the new bearer of the Element of Laughter, one of the six Elements of Harmony that maintain peace in Equestria and keep the Spirit of Chaos, Discord, sealed within his stone prison. Fluttershy of Nocturne is less than pleased with the news, realizing that her role as the bearer of the Element of Kindness will result in her and the other bearers' deaths to maintain the Elements' power. Nonetheless, both are resigned to their fates as they journey to the Holy Land to enact the ritual and bring another age of peace and harmony to Equestria.
So when the ritual fails unexpectedly and Discord is freed, the peace between Harmonia, Nocturne, and Solaris is shattered and war threatens to engulf the lands. Pinkie Pie and Fluttershy, finding themselves lost in a world gone mad, join together in an effort to stop the wars breaking out across Equestria and to seal Discord away permanently. Along the way, these two mares will face challenges and hardships, both inside and out, and will learn what it truly means to be the Elements of Laughter and Kindness...
...Assuming they aren't killed or thrown into a dungeon first, of course.
---
Thanks to Manicverse for the amazing cover art!
Chapters (1)