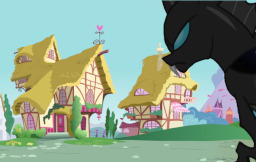 A single changeling is blamed for making Chrysalis' plan to take over Equestria fail. He's banished and thrown out of the hive, ending up somewhere far away.
Luckily, he ends up not too far from a certain well-known village, where he can feed to his heart's content.
Needless to say, not everything goes according to plan.
=======================================
Now with a French version, courtesy of Wansdich, here.
Fanart! Check it out here. And even more here!
Now in ereader-friendly PDF version, by Starflower Hooves! You can view and download it here.
Featured on Equestria Daily!
Chapters (10)